This 4-star hotel has 65 rooms and welcomes guests with free breakfast, free in-room WiFi, sauna and a fitness center. Perfect for a relaxing day, right?! When it comes to food.. well the free buffet breakfast is offered each morning. You can savor a meal from the comfort of your room with room service, or entertain your taste buds with a beverage at the bar/lounge or coffee shop/café. Lucky us..haha!! Surrounded by lovely areas, the hotel has stylish decor and the property maintains original features.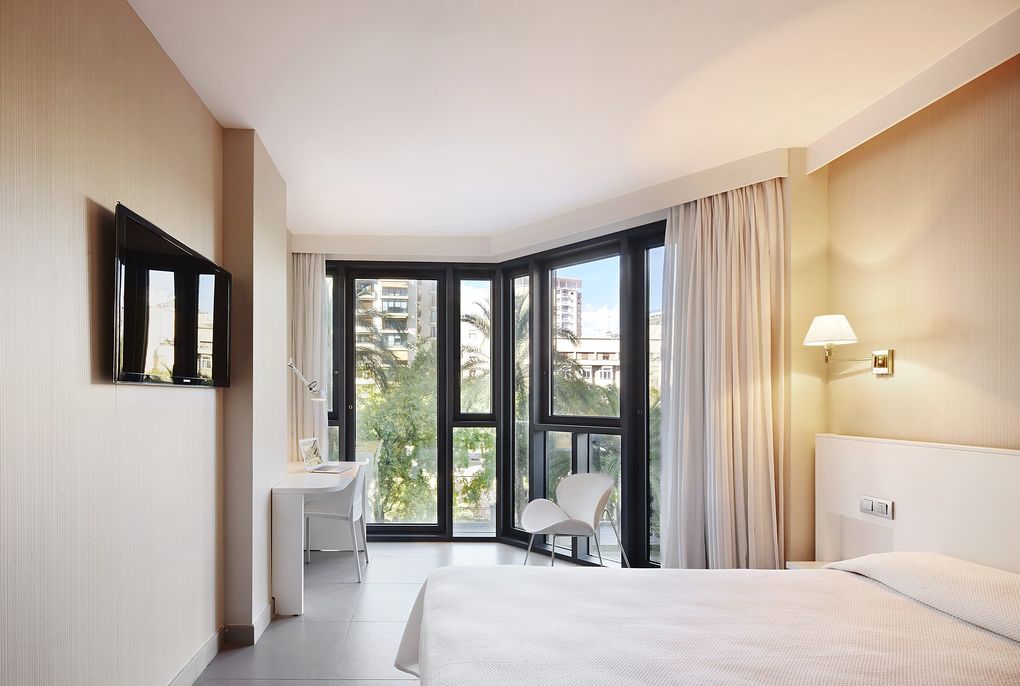 Each of its bright rooms has a private bathroom and some of them feature a balcony with picturesque landscapes of the magical centre of Palma. Being located in the heart of the city of Palma, means that this place has a superb base for exploring the city with its history and cultural attractions and of course, the ports of the southwest. Beside that, it is close to the main shopping areas and also within walking distance to the famous Cathedral of Santa Maria of Palma. Awesome, isn't it? Also, Teatro Municipal Catalina Valls and Centre Cultural La Misericòrdia are a short walk away from Hotel Palladium and other popular attractions like Bellver Castle are within a couple of miles (3 km). If you ask me, this location has everything you ever wanted! It is located more than perfect, you get a delicious breakfast every morning and you can relax whenever you want at their sauna and fitness center. Well, yeah.. is perfect! Therefore, for an unforgettable vacation, try this location and live "la vida loca" in this corner of heaven. You will love it!
Escape to a Mediterranean vibe from your everyday life in a place where everything is awesome, from its warm hospitality to the best places to eat and sleep in Mallorca. Famous for its unique location offering fabulous landscapes, Hotel Palladium it has a traditional, Mediterranean style and culinary delights for everyone's taste. Yeah, you heard it well! The Hotel Palladium is a pretty, elegant place set within an estate in the centre of the island, offering wonderfully restful stays and the opportunity to truly unwind and escape in the wonderful areas which surrounds them.